Wedding Photo Booth Rental
---

"We added a photo booth for the reception and everyone loved it! Everyone took pictures all night long with the props, plus it came with an attendant… everyone walked away with the picture strips and I also received copies!" – Marys and Bo, February 2012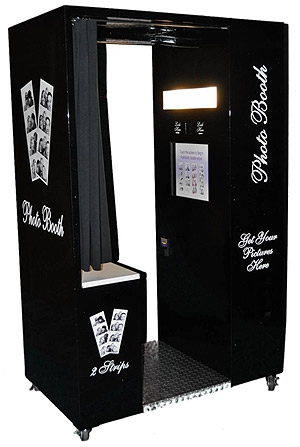 Professional Photo Booths are a Huge Hit at Weddings! A Guest Favorite!
Photo booths are hot – they're an immediate hit with guests. Can you blame them? Everyone has a great time getting in the booth and posing for several photos that are instantly printed on two high-quality photostrips. They also make a creative way to create a guest book – instead of just getting your guests' signatures, you can have them take photos and place them in a scrapbook at your wedding reception! 84 West Studios' photo booths offer EXCLUSIVE features that set us apart. Read more below or call us today at (954)236-9000 to come try our photo booths for yourself! You can also email us!
84 West Studios Exclusive Photo Booth Features:
Strips printed with custom designs, your logo, monogram, or wedding colors.
Multiple print copies from one sitting – no need to retake photos. Everyone in the shot gets their own copy!
Video! While the images are printing your guests can leave you a short video greeting. We can provide you with a DVD or include them in your wedding video. A modern, creative alternative to traditional guestbooks!
Email and facebook integration allows your guests to share their images right inside the photobooth. Other companies only offer uploading to their public websites, but your guests have complete control over the privacy of their images.
Come see for yourself why our photo booths are a hit! Call us at (954)236-9000 or email us to make an appointment to see our photo/video booths today.
Creative Event Tip: Photo Strips and Video Messages as your Guest Book
If you're looking for a unique way to keep a momento of your event but you don't want a traditional guest book, an 84 West Studios photo booth is a creative alternative. Our exclusive video message feature will let your guests leave you videos that can be integrated into your event DVD or uploaded to facebook. We can also print an extra copy of everyone's photo strip or have an extra copy printed right when your guests use the photo booth, allowing them to put them in a scrapbook next to a message to you. Very cute!
Photo Booths – Don't Accept Cheap Imitations!
Recently an entire industry has formed around providing photo booths for events. Many of the photo booths in this market are homemade shower curtain set-ups or unprofessional software that suffers from glitches, causing downtime at your celebration. Our professional, well designed photo booths are the same ones you see at malls and amusement parks and are designed to operate at high volumes with no downtime.
Interested in using our photo booths for your wedding? Call us at (954)236-9000 or send us a message to make an appointment to see them in person!